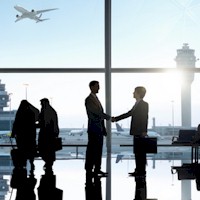 May Crest Travel provides ESP-Extraordinary Services Program. Whether it is a convention in San Francisco, a sales call to Hong Kong, or a meeting in Boston, the Professional Travel Counselors at May Crest Travel will ensure everything possible is done to guarantee a smooth trip from reservation to return. Because we specialize in service to the business traveler, May Crest is fully capable of meeting your Business Travel needs.
Our services to Business Travelers and their Organizations extend far beyond simply making reservations. May Crest regularly delivers to its business clients air, hotel, and car rates which meet or beat those available via the Internet. Assistance in developing and implementing a Business Travel Policy is also available.
Although many Services and Benefits provided by May Crest Travel are available at no charge, certain services are subject to fees. However, we believe our fee structure, including our basic ticketing fee, is among the lowest available anywhere. We invite you to Compare!
Whatever your travel needs, May Crest Travel has the experience which Business Travelers expect from a Travel Professional and the expertise which helps those Travelers and their Organizations effectively manage travel expenses. Feel free to contact us about your Business Travel needs and find out the Services and Benefits May Crest Travel can make available to you and your Organization.